About Pavlis
Hallo,
my name is Pavlina Sramkova, shortly Pavlis and this is my web gallery.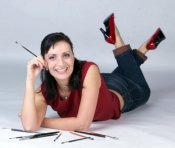 I am:
- a painter and artist
- since 2009 lecturer of drawing and painting art and other art techniques in my own art studio Pavlis Art Center, in Prague 8 - Karlin, Krizikova 113. The courses are designed for both children and adults.
More about Pavlis Art Center see on www.pavlisvytvarnecentrum.cz.
PAINTINGS WITH A STORY
I specialize mainly on portraits. Human faces, their feelings and emotions are a constant inspiration to me. I prefer paintings full of strong emotions and stories of obvious and hidden.
For my paintings I select themes which are full of powerful stories to me. I consider myself primarily as a portrait painter. Human faces and emotions are a constant source of my inspiration, which I found everywhere around. In recent years, I also turn into myself. In the picture's collection of Mystic Moments are used elements of surrealism and symoblism. I capture my dreams, ideas, feelings and thoughts . Most of these paintings are on a black background, because the night is the time when I do not see by my eyes, but the heart .